Welcome to the home of South Oxfordshire CAMRA
Branch News
Branch Pub and Brewery News (October & November 2023)

Tuesday 28 November 2023

Pub news:

The newly refurbished letting rooms at the Royal in Wallingford are now open.
The owner of the Horse & Harrow, West Hagbourne has appealed against the refusal of their first planning application (to run it into several dwellings).
The Perch & Pike, South Stoke reopened in September – possibly being run by the same team as the King William IV.
The John Barleycorn in Goring is back on Brakspear's 'available' list.
The Bottle & Glass, Binfield Heath is down to a single handpump – a varying Loddon beer.

CAMRA Good Beer Guide 2024 Launch & 50th Anniversary Presentation at the Leathern Bottle, Lewknor

Monday 20 November 2023

The Good Beer Guide 2024 launched on Thursday 28th September, and we marked the occasion with a special event and Award presentation to the Leathern Bottle in Lewknor, which has attained a remarkable 50 entries into the prestigious Guide. This is no mean feat and has only been achieved by less than a handful of pubs across the country.

The Leathern Bottle is a Grade II-listed traditional country pub, spread over three rooms separated by a large open fireplace and the main bar area. It has served consistently good cask ales from Brakspear over many years and also excellent home-cooked food, using locally sourced produce. The pub has been run by Les and Julie Gordon (pictured right with Paul Dixon, our Branch Secretary) since 1998, with Julie's father Mike, and Lesley, having previously run it since 1980. The pub has always offered a very warm welcome to all, whether locals or visitors from further afield, including walkers from the nearby Ridgeway.

It's brilliant that we can recognise the best of the pubs that we have in the country, especially in these very difficult times for our hospitality industry, and CAMRA congratulates everyone who has been associated with making the Leathern Bottle such a great pub for the past 50 years.
Branch & Regional Events
Other Local Events
Latest Soxon Ale Magazine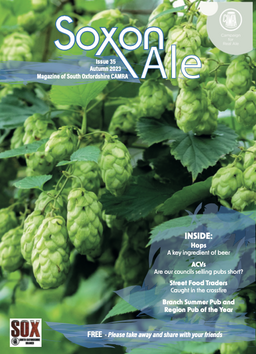 @SoxonCAMRA
Follow SoxonCAMRA on twitter
Attention Branch members
If you are a fully paid up member of CAMRA, please do visit the Members' Area, where we endeavour to keep all of our members appraised of the latest news relating to Good Beer Guide nominees, Pub of the Year and Season candidates, and general beer scoring trends. You will also find minutes of our monthly Branch meetings for the last 12 months, as well as for our most recent AGM.
Calling all pub landlords and brewers in the Branch area
If you are throwing a beer-related event at your pub or brewery we would love to hear about it! Please contact us to let us know about your event and we will post it here as well as on our social media.
Pubs as ACVs
We currently only have 4 pubs as Assets of Community Value (ACVs) in the branch. If you would like to find out more about protecting your local with an ACV, take a look at the help on our main website.